Why Texas Drivers Choose Us
---
DPF Cleaning, Repair and Replacement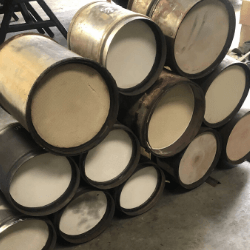 Many diesel truck owners and 18 wheeler drivers, as well as anyone who owns or operates a vehicle or machinery with a diesel particulate filter (DPF) knows lack of regular vehicle maintenance is a costly mistake. Staying on the road safely and with confidence that your vehicle is in tip - top operational condition requires attention to detail, in particular, the condition of the particulate filter.
Confidence in Your Particulate Filter
If your truck, 18 wheeler, bus, SUV or luxury car is equipped with this type filter, and the warning light is ignored or attention to the warning is delayed, a filter operated at a mere 40 mph may clog and cease to regenerate. This causes defects in the DPF and requires replacement. Long, over the road trips can be delayed just trying to locate a full service supplier of this type of filter.
Full Service is Our Priority
When Texas DPF and Services was founded in the particulate filter cleaning industry, our first priority was offering services that filled the most pressing needs. With the realization that diesel engines' drive many major businesses throughout the country and in particular Texas, we organized a team of top experts to create the highest quality service for diesel particulate filter cleaning.
It became clear our contribution was to assist in the free flow and continuous movement of transportation. We recognize the importance of cleaning services for particulate filters. With an eye toward our goal of providing diesel-related vehicles and machinery filter cleaning services, it wasn't long before our customers made clear their needs for metal fabrication, another service we added to our menu of services and product offerings.
By proactive and reactive response to customer needs, we became a "go to" necessity in 25 Texas counties.
Your DPF and Metal Fabrication Experts
---
Trailer Repairs, Metal Fabrication and More
Fortunately for drivers in Texas, Texas DPF & Services is a full-service supplier of top name automotive filters. We also offer a range of metal fabrication that includes:
Trailer Repairs
Design and Construction of different types of trailers
Fabrication of stake beds, flat beds, and deer feeders 
Installation of Anthony Liftgates
Repair and installation of ramps for trailers and trucks 
It's easy to see why the most experienced drivers rely on Texas DPF & Services for a host of metal fabrication and vehicle particulate filter needs. With a highly trained and experienced staff, our family - owned business assures customers excellent construction, installation and repair for all of our product offerings. 
Texas DPF and Services has a wide scope of customers served in an impressive 25 Texas Counties that include Collin, Cooke, Dallas, Delta, Denton, Ellis, Fannin, Freestone, Grayson, Henderson, Hill, Hunt, Hopkins, Johnson, Kaufman, Lamar, Limestone, McClennan, Navarro, Rains, Rockwall, Smith, Tarrant, Van Zandt, and Wood.
Customer Advantages
The advantage of our family owned business that provides such a broad range of services is the ability to offer additional customer benefits. For example, we offer free pick-up and delivery of a filter and assurance of 24-hour turnaround time for filter cleaning, repair or replacement, in most cases.
If the filter has already been removed, it is brought into our shop where it is cleaned and restored and returned to the owner. We pride ourselves on a reputation for customer convenience and satisfaction. Customers can also bring their vehicles into the shop where the filter is then removed, cleaned and restored and reinstalled in their vehicle. It doesn't get much more convenient than this for drivers in a hurry to get back on the road.
Added Fabrication Services Customers Need
We have created a well coordinated link between our expert metal fabrication services and diesel-fuel particulate filters to fill in gaps customers and drivers need most. So you do the driving and our experts do the work that saves customers time and money. The other business feature that adds to our company reputation is accessibility. With our 150 mile service radius, help is as close and convenient as it can get.
We've Got North Texas Covered
---
DPF Cleaning, Metal Fabrication, Liftgate Installation and More
Texas DPF & Services is proud to offer top notch diesel particulate filter cleaning and a variety of metal fabrication services in North Texas. We pride ourselves on giving you the best service possible and always offering the highest quality products. From DPF cleaning, repair or replacement, to custom deer feeders to a variety of metal fabrication services, we offer the services you need with friendly faces to go along with it. Ask us about custom metal fabrication jobs! We love to take on new projects and help our customers in any way we can. You can trust Texas DPF & Services to do the job with the highest quality standards in mind. 
More Than Just DPF Cleaning
---
All The Services You Need To Keep Your Equipment Running
At Texas DPF & Services, we know how important it is to keep you safe and on time on the road. Look no further for your DPF cleaning and repair needs. We make the sometimes daunting task of DPF cleaning convenient, quick and easy. With our free filter pickup and delivery policy, those who need their filters cleaned in the Dallas/Fort Worth Metroplex can count on Texas DPF & Services to get the job done right the first time. In addition to our DPF cleaning, repair and replacement services, we also offer a variety of custom metal fabrication services including: deer feeder fabrication, trailer welding repairs and additions, stake bed fabrication and custom fabrication jobs. We are happy to serve you in your DPF cleaning and metal fabrication needs. 
Stacey at Texas DPF was very professional and helped me with our company fleet trucks.
Let Texas DPF & Services Keep You On The Road
Call Us For Your DPF Cleaning and Metal Fabrication Needs!